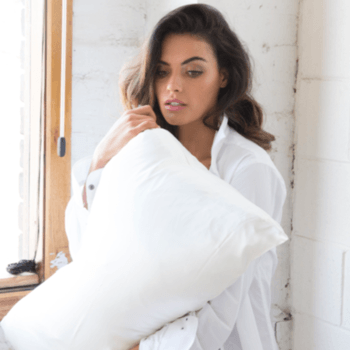 Everyone has that one friend who always has fabulous hair - no matter what day you catch them on. They will style it at the start of the week and it just seems to continue looking just as fresh and fabulous from Monday to Sunday.
How do they do it? They definitely have a little secret they haven't shared with you - they sleep on 100% silk pillow slips.
Silk pillow slips not only look luxurious piled up on your bed, they have big beauty benefits that many of us aren't aware of.
Here are five reasons silk pillow slips are exactly what you need to get healthy, Rapunzel-worthy hair all while you sleep! It seriously couldn't get any easier. 
No more split-ends
As we sleep we naturally toss and turn throughout the night, we never lie in the one stationary position. It's now known that harsher materials and fabrics like cotton, polyester, and mixed-materials that cover your average pillow slip all cause hair to be pulled and snagged throughout the night.
Shhh Silk's 100% natural Mulberry silk pillow slips allow hair to effortlessly glide over the surface resulting in gorgeous, swishy next-day hair - minus the rough split-ends that come from a poor nights sleep on inferior pillow slips.
Say hi to hydration
Beauty editors across the globe know the secret to shiny, glossy hair: hydration. Without hydrated strands you simply wont get that healthy sheen we all strive for. We've all bought countless products that sit in our bathroom vanities that claim to make our hair healthy and strong, but did you know hydrated hair doesn't just come from a tube or bottle?
Natural silk pillow slips allow the hair follicle to retain moisture, unlike cotton that acts like a sponge, slurping up all your hairs natural oils. If hair dryness is a concern you're often battling, you'll be flawed by how shiny your hair looks after just one week of sleeping on a silk pillow slip.
Keep your blow-dry for longer
After splurging on a splashy blow-dry fit for a royal, it's a shame to only rock your fabulous strands for only a day, or perhaps two if you're really lucky!
Keep your expensive blow-dry for longer by sleeping on silk. You'll continue to wake up with volume, shine and no knots or tangles until your next wash. No need to even run a comb through your hair in the morning! It's a smart move.
Reduce hair-loss

 
Female Pattern Hair Loss (FPHL) sadly affects up to 60% of women in just Australia alone. This genetic condition is best treated with a topical or oral medication, but both are assisted greatly when cotton pillow slips are switched out for natural silk to minimise further stress and hair-loss to the scalp.
Keep hair extensions looking new
Love the volume and length hair extensions give you the moment you step out of the salon? Keep your gorgeous results and pricey investment for longer by sleeping on Shhh Silk's 100% natural silk pillow slips. The silk surface won't snag or pull the attached hair extensions so you'll see less damage and be able to wear them for a lot longer.
Enjoy your beauty sleep,
Shhh Silk xx