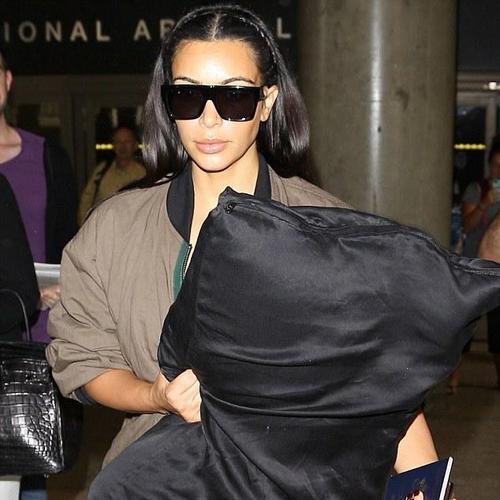 Today I want to share a story with my readers about achieving your goals and believing in yourself and stopping at nothing until you reach them. Having an attitude and drive like this is what fuels my business and it's success every day: 
We've all heard of the Kardashians & the Jenner sisters, we see them on our social feeds daily, in fact most of us feel like we know them so well as we now watch their every move on Snapchat. 
I first learnt of Kim's love for sleeping on a silk pillowcase back in 2014 when she was photographed arriving at LAX carrying her pillow with a black silk pillowcase.  See here.
Since then we have all discovered that it's a love all of the Kardashian & Jenner sisters share. 
Combined the Kardashian / Jenner sisters (let's not forget Kris) are the most powerful fashion & beauty icons of the 21st century. 
Knowing their love of silk pillowcases, I could not resist the opportunity to hand deliver some of our new signature range marble silk pillowcases to the girls mum and manager Kris Kardashian. 
I cannot explain to you in words how excited and incredibly nervous I was this day upon arriving at Kris's residence where both Kim & Kanye's Rolls Royces were both parked on the front nature strip, and two incredibly long security cameras were staring at me...
The driveway was under repair with safety tape cautioning off the entrance, this was creating a logistical nightmare for me as I was now wondering how I would approach the doorstep without stepping over the tape? 
I idled out the front in the car for what felt like an eternity wondering if perhaps my love for the Kardashians and my personal hand delivered gift (all the way from Australia) was perhaps no longer such a good idea?
And then right at that moment the universe opened it's gates and gave me a gift, it was a rather large gift and brown, a UPS truck pulled up at that exact moment with a box delivery. 
(My gift from the universe looked just like this one)
This was it, this was the moment I had literally been dreaming about since before leaving for LA, I was going to personally hand deliver some of our new marble silk pillowcases to the Kardashians. 
I quickly jumped out of the car, and followed the UPS delivery man over the tape (yes I climbed over the tape), and delivered my parcel. 
I cannot express how proud I was at that moment to know these girls who have slept on silk basically their whole lives, who have known about the beauty benefits of sleeping on silk well before most of us, would now have the opportunity to experience our silk pillowcases. 
Now I know there will be people out there who are not fans of the Kardashians and I ask you nicely to keep that feedback to yourselves, as the reason I am sharing this story is I had a goal, a dream if you like, and that was to make sure the Kardashians received our silk pillowcases. 
As crazy as that goal is for some people it was real to me, and I achieved it. Yes there were barriers (many in fact), however I stopped at nothing including flying half way across the globe to achieve it. 
LESSON: Never stop believing in your dreams and goals
So Kim, Khloe, Kourtney, Kylie, Kendall & Kris - Enjoy your beauty sleep. 
Thanks for reading, don't forget you can email me your stories or questions at info@shhhsilk.com
Olivia - Shhh Silk xx