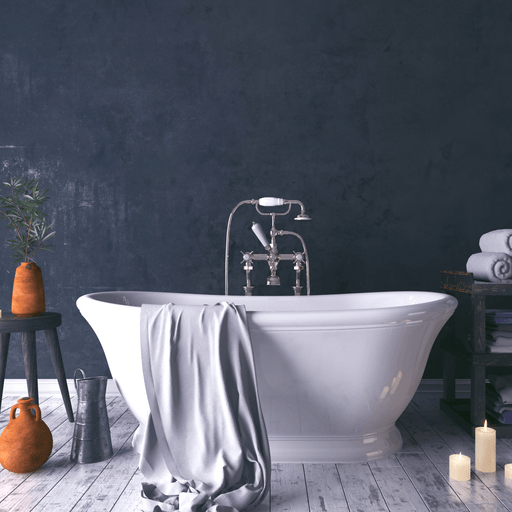 Written by Andrea Loyoza. Andrea is an SEO Marketing Assistant and does Content Marketing at

 

Porch. She is passionate about social media, fitness, and fashion. Her hobbies are running, singing and reading.
We all need a bit of me time to relax, unwind, and enjoy a little pampering. You don't have to pay a lot of money to get a spa's unique experiences if you create your own at home. With a few simple tweaks and tips, you can enjoy your very own at-home spa for the perfect way to practice a little bit of self-care. We've put together an awesome list of ideas to help you relax and create a DIY spa that'll have you feeling calm and serene.
To create your very own spa at home, you'll need to set the mood. From finding the perfect spa space to supplies and lighting, here are some tips to get you started on your journey to total relaxation.
Set up Your Space
Start by choosing where you want your at-home spa to be. It can be your master bathroom or just a spare room where you can spend time in peace and quiet. A room with a view is another great option to help you get some sunshine and enjoy a little bit of nature as you unwind.
Once you've chosen your space, use some relaxing products like essential oils, a bottle of bubble bath, fresh flower fragrance pillows, or a vase filled with a bouquet of fresh flowers.

Choose scents that have a calming effect,

 such as lavender

, eucalyptus, and chamomile. Use an essential oil diffuser to enjoy the benefits of aromatherapy at home.
Gather Supplies
A cup of hot tea is a great way to help you relax. Gather some of your favorite 

herbs

 to make tea, a cute kettle, and your favorite mug so you can sip your cares away.

Look for ingredients to make your own DIY mask. A 

facial mask

 can soothe your skin and help you feel calm and relaxed.

Organize all of your favorite spa goodies in a cute basket and keep them in your special space. This will make it easy for you to find everything you need so you can start relaxing right away.
Adjust the Lighting
Bright light might not make you feel as relaxed as you could be, so dim the lights in the room for a soothing ambiance.

Bring in some candles and turn off the overhead lights so you can bask in the candle's illuminating glow.

Light a scented candle before you hop in the shower or tub. This simple act will make daily bathing more relaxing, even when you don't have time for a full spa experience.
Create a Playlist
Music has an incredible ability to calm the nerves, so make a custom playlist featuring some of your favorite songs to help you chill.

You can find spa music that's specially made to help you feel calm and tranquil. Use this music as you relax and listen as your stress melts away.

Add a Bluetooth speaker to your spa room so you can change tracks from your smartphone and won't feel the need to get up and walk over to the stereo.
Dress for the Occasion
Find a fabulous robe that you can wear in your at-home spa. Silk robes are super-soft, lightweight, and perfect for recreating an authentic spa experience.

Wear a comfy pair of slippers you can put on and take off whenever you want to keep your feet cushioned, and your mood elevated.

Invest in a quality pair of pajamas. A two-piece set with a top and bottoms is a great choice, or you can buy a nightgown so you can go from your spa right to bed.
Decorations for Your Home Spa
No spa is truly complete without beautiful decor. Here are a few suggestions to help you create a serene, relaxing spa space at home:
Plants:

 

Houseplants create a nice, calming effect and add a beautiful, organic touch. Choose plants that are easy to care for, but that will add color and beauty to your spa area. Consider adding plants like aloe vera that feature natural air-purifying properties.

Lamps:

 The proper lighting makes your spa feel much more relaxing, so choose a few decorative lamps and use a soft, warm lightbulb. Himalayan salt lamps are an excellent choice for a spa, and a lighted oil diffuser gives off a soothing glow and adds an extra boost of

 relaxing fragrance

.

Artwork:

 Elevate your spa at home by hanging some beautiful artwork. A lovely landscape painting or a softly colored modern work of art can add to the ambiance of your spa without being overwhelming.

Candles:

 You can use candles for lighting, scent, and décor all in one. Choose a candle in a scent you love and find soothing. Lavender is primarily known for its calming scent. Or, try a battery-operated candle if you're just looking for a nice flickering glow without the scent.

 

Flowers:

 Add a vase with some freshly cut flowers whenever you have a spa day at home. Flowers bring calm, cheer, a light fragrance, and natural colors to your self-care space.
Set Up Any Space for Your Home Spa
Don't be afraid to think outside of the box when you choose a space to set up your home spa, even if that space is outside of the house. The idea is to set your spa somewhere you will enjoy spending downtime. In fact, you might even want to create an on-the-go spa kit that travels with you so you can make any spot a makeshift spa. Here are a few places to consider:
Outdoors
You can create your ideal spa setting if you have a patio, courtyard, or just a small garden niche. Turn your backyard shed into a spa or create a Zen garden that brims with tranquility. To create a backyard spa with or without moderate shelter, you should plan to have:
Solar-powered fan

Comfortable lounge chair like a chaise lounge

Shade plants

Umbrella

Firepit (for cooler days)

Small patio table for drinks 
Weekend Getaway
Create a travel spa kit so you can transform any getaway into a spa session. Not all hotel rooms are designed with spa-infused serenity in mind. Conversely, if you're traveling to a rustic cabin or plan to camp in a tent, you may miss your home spa items. You can put together a spa kit to take on the road, and you'll be glad you did. Consider adding these items to your weekend getaway spa kit:
Cozy bathrobe

Scented candle

Rechargeable handheld massager

Aromatherapy set

Bath bomb 

In-shower body lotion
Your Own Bathroom Oasis
In many ways, your own personal bathroom is the ideal place to create a home spa. It has access to water so you can take relaxing baths or hot showers, but it may not be outfitted with relaxation in mind. If that's the case, here's what you need to transform it into a spa oasis:
Ambient lighting (i.e., candles or lanterns)

Aromatherapy set

Soothing colors

Cozy seating and vanity 

Relaxing music

Plush bathrobe and towels
DIY Spa Treatments
If you really want to feel relaxed, make sure you're giving your hair, nails, and face the treatment they deserve. You don't have to spend much money on high-end luxury products to get the same experience. There's a ton of options for a DIY spa treatment, Eco-Friendly Beauty and Personal Care Products, and self-care subscription boxes available that you can use to create the perfect hair and face masks at home. 
Try doing your own pedicure and manicure and doing some nail art. Look for recipes and suggestions that you can do yourself to make custom spa treatments using safe, natural ingredients. Search for skincare tips for winter or summer since your skin will likely be different in each temperament. Also, research different serums, such as those with retinol, which have amazing benefits for your skin.  A body scrub is also a great way to relax. This treatment sloughs off dry skin and leaves you feeling smooth, soft, and moisturized. Just remember to apply a moisturizing lotion after using a body scrub for the best results. Avoid applying body scrubs to damaged skin or skin that's extremely dry. 
Be experimental and look for DIY hair masks that will help your hair feel new and refreshed. This is the perfect time to allow your hair to breathe and relax. Heat can damage your hair, so consider letting your hair air dry after applying conditioning treatments.
At-Home Beauty Spa Tips
Enjoy luxurious beauty spa treatment sessions that you can indulge in for a fraction of the cost you might pay at an upscale spa. If you have a vacation coming up or have a big event to attend, you might want to indulge yourself in a beauty spa day right at home. Here are a few tips to consider:
Prepare Your Skin
You prepare your skin for all sorts of beauty regimens and cosmetic products by giving it a good cleaning and exfoliation session. Know your skin. If it's prone to dryness, for example, choose products designed to complement its needs. 
Hair Removal Tips
If you plan to shave, be sure that you choose shaving cream that's gentle and soothing for your skin type as well. Depending on where you want to remove hair (i.e., legs or eyebrows), choose the ideal tools for the job. Today, the marketplace brims with hair removal tools and devices that you can use on your own in the comfort of your own home.
Enjoy a Manicure and Pedicure at Home
Freshen your fingers and toes with a simple at-home manicure and pedicure. Shop for a few of your favorite polish colors, so you have lots of options to choose from. Here are some tips to ensure your at-home mani and pedi are a success:
Make sure you have some quality nail clippers, cotton pads, a nail file, a foot scrubber (like a pumice stone), and your nail polish before you begin.

 Trim and shape your nails using the nail clippers and file. Remove any old nail polish using a gentle nail polish remover, then file your nails to your preferred shape.

Pamper yourself with a nice

 foot soak

 before you paint your toenails. Soak for around 15 to 20 minutes in a tub of warm water up to your ankles, with a cup of bath salts and a few drops of essential oil. 

Paint your fingernails and/or toenails in your desired color. Wait for them to dry, then finish with a clear topcoat, so they stay beautiful longer.

Moisturize your hands and feet once your nails are completely dry.
Spa Products to Add that Special Touch
After you've chosen a space, picked out some music, and planned your day, there are a few other things you can add to ensure that your spa is as tranquil as can be:
Neck Pillow:

 

Use a neck pillow to help you relax. You can choose a bath neck pillow that supports your head in the bath, or try a soft, supportive scented pillow to cradle your neck while you lay back and relax.

Gel Eye Mask:

 Soothe those dark undereye circles with a cooling gel eye mask. These masks can reduce puffiness and help you feel calm.

Jade Roller:

 A jade roller is a great product that can relax your facial muscles. Use this handy roller after you've rinsed all facial products from your skin. These handy beauty tools are inexpensive, and they can help reduce facial puffiness while promoting feelings of calm.

Bath Salts:

 To give your bath some extra benefits, look for 

bath salts

 or 

sea salts

 in soothing scents. This product is excellent for relaxing while it softens the skin and emits a gentle, calming fragrance.

Facial Headbands:

 A headband will keep your hair out of your face when applying masks or bathing. Choose a headband made of soft material like terry cloth or microfiber.

Spa Slippers:

 Find a pair of soft, cushy slippers you can wear around the house. This footwear is a perfect way to protect your feet while keeping them comfy and warm.

Massagers:

 A 

foot massager

 is a perfect addition to your spa. This gadget will relax your feet and calves as you sit back and relax. You can also find massages for your neck and back to remove pesky knots and relax tense muscles.

Essential Oil Diffuser:

 Once you've chosen some essential oils, use an 

oil diffuser

 to emit soothing scents throughout your space. Try to diffuse just one oil at a time, or you can combine a few different oils within the same fragrance group.

Candles / Incense Sticks:

 

Scented candles

 and incense sticks are both great ways to create a soothing ambiance and enjoy a gentle fragrance in your home spa. Find an incense holder that will catch the "soot" from your incense and protect your counters. Some scent suggestions include patchouli, ylang-ylang, rosemary, and jasmine.
Skincare Tools
Stock up your at-home spa with some essential skincare tools:
Gua Sha stone:

 

This smooth stone

, usually made of jade or quartz, improves blood circulation and keeps your skin looking fresh and young.

Facial massage roller:

 Use this tool to

 massage your face

 to stimulate circulation and help you relax. Some rollers can be frozen or refrigerated for extra cooling, relaxing effects.

Exfoliating sponge:

 These sponges use gentle abrasion to remove dead skin cells, resulting in fewer blemishes and smoother, clearer skin.

Microneedling tool:

 Try this handy tool to help your skin stimulate collagen production naturally. With regular use, it can help your facial skin look toned, smooth, and bright.

Makeup removing pads:

 Look for reusable pads you can wash to reduce waste. You can also find cotton rounds to remove makeup and apply toner.

Facial cleansing brush:

 These brushes will give your skin cleansers a thick, creamy lather. Look for brushes made of bacteria-resistant silicone.
Hair Care Tools
Every good home day spa should have a quality assortment of hair care tools. These are the essentials:
Hairdryer:

 

A quality

 hairdryer

 will help your hair dry faster and leave it smooth and frizz-free.

Diffuser attachment:

 Add this attachment to your hairdryer if you have thick hair to reduce drying time and keep curls intact.

Curling iron:

 Give your hair some extra bounce with a hot curling iron.

Straightener:

 If you prefer sleek, straight locks, try a straightener that uses gentle heat to smooth and "flatten" the hair cuticle.

Round brush:

 A rounded brush is great for adding volume to your hair. Look for brushes made of boar bristles, which are much more delicate on hair to prevent breakage.

A quality comb:

 You can use a fine- or wide-tooth comb, but a good comb is definitely a haircare tool must-have for smoothing and detangling.
Everything You Need to Know about Massages
A world-class spa treatment involves massage. What could be more relaxing? If you have a willing partner who will treat you to a massage in your spa, so much the better! However, you don't have to forego a spa if you happen to be enjoying a solo spa session. There are different types of massage therapy you can try:
Back Massage
You might think it's impossible to give yourself a relaxing back massage, but it's possible. You need a foam roller to place just beneath your shoulder blades as you lay atop it on the floor. Rock your body back and forth over the roller to allow it to remove tension and everyday aches.
Head Massage
If you're feeling stressed, a head massage is easy to perform using your own two hands. Place your thumbs on your upper cheekbones and apply your other fingers to your temples, rubbing them in a circular motion. Continue by moving your fingers to make small circles under your hairline as well.
Foot Massage
If your feet are achy, you can alleviate the pain using a simple tennis ball massage technique. Remove your shoes and socks and sit down in a comfortable chair. Position the tennis ball under your foot and roll the tender areas of your foot over the ball. Repeat with the other foot. If your feet are still achy, try it in a standing-up position so you can apply more foot pressure to the tennis ball. 
Massage Tools
There are plenty of self-massage tools for use on various parts of your body, including your face and pectoral muscles. Some tools you might want to consider are:
Thera Cane (for back, leg, neck, and pectorals)

Foot rollers

Spine and back massagers

Thumb massagers

Band roller massagers (for back and legs)
If you intend to perform self back massages, consider purchasing a mat for added comfort, so you don't have to lay on a hard floor.
Include Your Family
Relaxing in your spa alone is great, but you can also enjoy a special spa day with the entire family or have a relaxing Mother's Day experience. Here are some suggestions you can use to provide your family with the ultimate at-home spa experience:
Make some delicious smoothies full of fruit, greens, and other goodies that are healthy and delicious.

Buy your kids a comfy bathrobe and slippers they can wear on their special spa day.

Look for fun bath accessories for kids like colorful bubble bath and bath toys to make the day special.

Listen to relaxing music and teach your kids about breathing techniques and 

meditation

.

Spend some time together as a family after your spa day by finishing with your kid's favorite movie or a special dinner.
Make it Romantic
You can enjoy a romantic getaway right in your own home with a couple's spa day. Take a day off from work and invite your other half to join you. To create a romantic spa day, try some of these suggestions:
If the tub is big enough, enjoy taking a nice long bubble bath together and play some romantic tunes by candlelight.

Choose romantic scents for your spa day, including rose or vanilla, to help set the mood.

Buy your partner a matching bathrobe so you can both wear comfy clothing after you soak in the tub or take a relaxing shower.

Enjoy a few snacks together, like 

chocolate-covered strawberries

, whipped cream, or a fresh fruit tray.

If you have experience with massage, offer to give your partner a nice, long rubdown.

You can also get a 

professional massage therapist

 to go to your place; they provide everything needed for a total trouble-free experience.

Disconnect from the outside world and turn off your smartphone and the TV. This is the time to reconnect and enjoy some peace and quiet as you both relax and decompress.
Now that you have everything you need for a relaxing DIY spa day in the comfort of your own home, it's time to get started. We hope you're able to fully relax, chill, and enjoy your at-home spa day using these tips and ideas. From essential oils to DIY masks and scrubs, it's easy to experience the same relaxing effects of an expensive spa right in your own home for the ultimate spa day anytime. Also, if you are planning to open a spa and salon in this competitive market, then have a plan to Increase Return Clients Ratio At Your Spa & Salon.