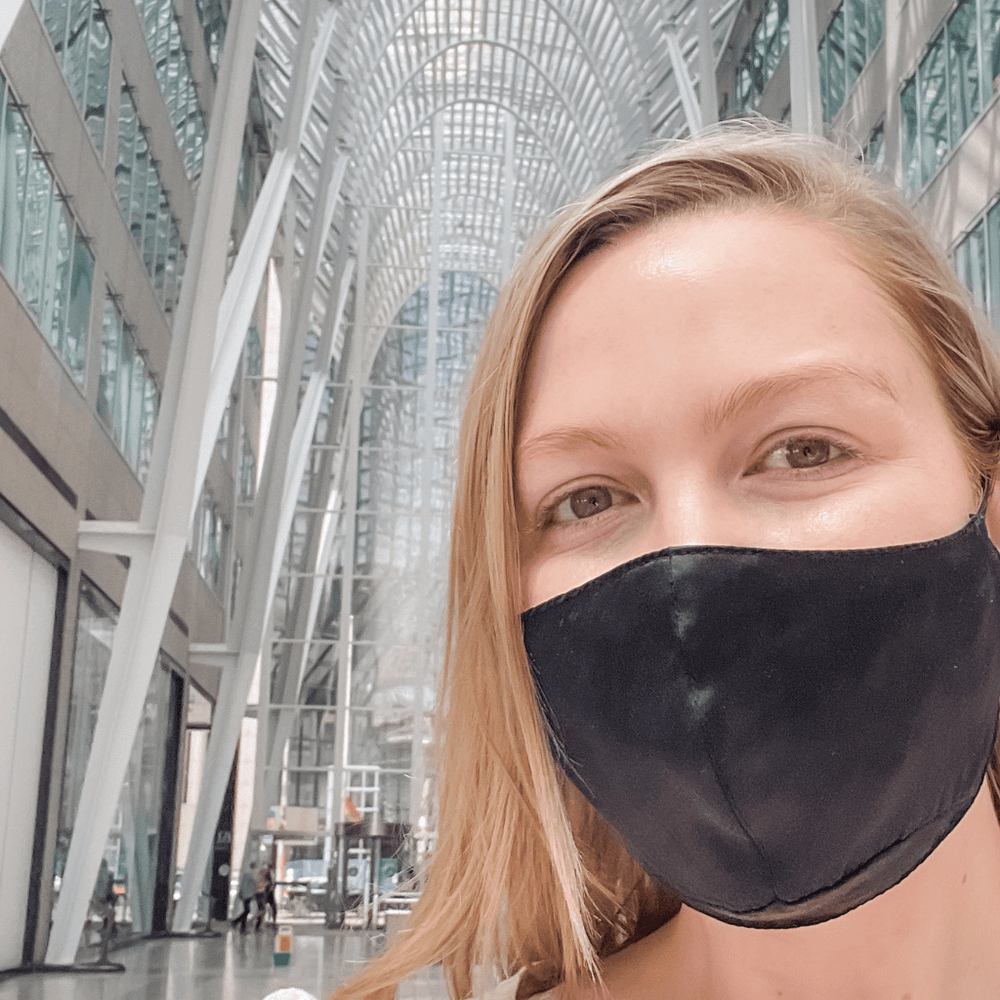 Written by Amanda Cummerford. Ama

nda is a 30 year old mum, wife, beauty influencer, content creator, and writer that shares her experiences with perioral dermatitis, dry and sensitive skincare and glowy makeup. @amandascuteface
About My Skin 
I am 30 years old, have dry, sensitive, rosacea prone skin and experienced perioral dermatitis after the birth of my son in September 2019. In case you are not familiar with the skin condition, it is when your moisture barrier becomes impaired, and you get dry, red bumps around your mouth, nose and eyes. It stings when you put anything on your face, and it sucks.
My symptoms lasted for about six months until it was accurately diagnosed and could treat it with gentle skincare and antibiotics. Just as I was feeling like myself again and my skin was clearing, COVID-19 reached Australia. The medical advice was all over the place initially, but it was the first time I heard the suggestion that face masks would become mandatory. I was naturally very anxious about the idea of wearing a mask because I did not want to do anything to disrupt my skin again.
The first time I had to wear a face covering, I tried wearing a surgical mask from the chemist. Straight away my face was sweaty. So, I had a quick google and discovered that they are made of plastic, which is a common cause to skin irritation and dermatitis. I knew I needed to avoid any irritants like plastic, polyester, nylon and rayon so I started to look for replacement masks.
Why Shhh Silk?
After doing some research online, I came across Australian brand Shhh Silk and purchased the Reusable Black Silk Face Mask.  They are made with Pure 19 Momme High Grade 6A Mulberry Silk; a natural, soft and breathable material, that can prevent skin dryness, rashes and mask acne. Silk is skin friendly and hypoallergenic.
When it arrived, I was delighted by how well it fit my face with its adjustable straps that do not dig into my ears, and the cute triangle of extra fabric that could go over my nose or chin to keep it in place (I put it under my chin). The black silk face covering is chic, goes with any outfit and is machine washable. I immediately went back online and purchased a 3 pack so I could rotate them while some were in the wash.  
Results
I moved from Australia to Toronto, Canada for my husband's work at the end of May 2021. The Province I live in is still in semi-lockdown (but easing yay!) and mask wearing is mandatory. It has been a whole month of wearing a silk face mask every day and I am happy to report that my skin is still clear and glowing with no dermatitis in sight. Now I will not use any other face mask.
My tips to prevent skin irritation while wearing a mask
Choose a mask that is made from a breathable material
Make sure your mask fits your face property
Look at the washing liquid you use to wash your mask
Go makeup free if you can
Be consistent with a simple skincare routine even if it is just cleanser and moisturiser