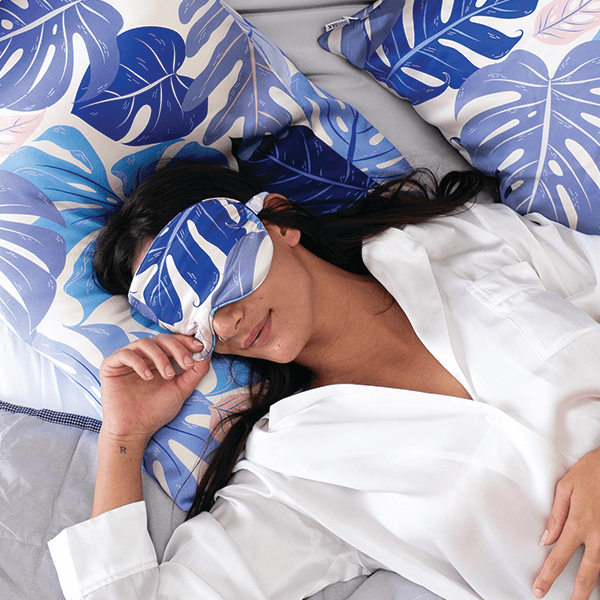 Get ready for a hot and tropical holiday - But not too hot because I'm pale and burn like a tomato!
-
 Okay so I might not be talking about a real holiday, but I have the next best thing. Introducing our newest range *drum roll*...
The Tropical Leaf Collection
! You have asked and pleaded for new patterns and we thought we'd deliver in the most sensational way. We have taken much time and effort to create a beautiful hand-drawn tropical pattern that would live up to the expectations and needs of our amazing Shhh Silk Squad.
So what can you expect from this highly anticipated new pattern? Our traditional and loved 100% pure mulberry silk, decorated in shadowy, intertwined Monstera leaves is the perfect companion to compliment your current Shhh Silk pillowcases. For those who aren't plant lovers, leaves of the Monstera Deliciosa are notorious for their large, perforated and rich green leaves. They are native to tropical habitats, particularly in Central American Rainforests.
 -
-
While the Monstera Leaf is typically green in colour, we have altered our pattern to portray the leaves in cool-toned blues, purples and blush pink on an off-white background. If the silk material of this product isn't enough to induce a night of deep sleep, the shadowy colour palette of this pattern surely will.
-
 -
And just because we know you will be so in love with this new style, we have made it available in not just our
Queen Silk Pillowcase
, but also in our
Eye Mask
,
Silk Filled Travel Pillow
and
Silk Travel Set
. I know, we have made this terribly difficult for you as you now want to buy all 3! But look at it this way: if you're not going on a holiday, you deserve to treat yourself with a new set of silk products. Alternatively, if you are going away, can you really endure a long plane trip without
Tropical Leaf
silk products to get you in the holiday mood? I think you can definitely justify it either way!
Regardless of whether you're at home in bed or stuck in discomfort on a plane, the
Tropical Leaf Collection
will block out all your surroundings and have you dreaming of exotic holidays in the sun, as if you're actually there.