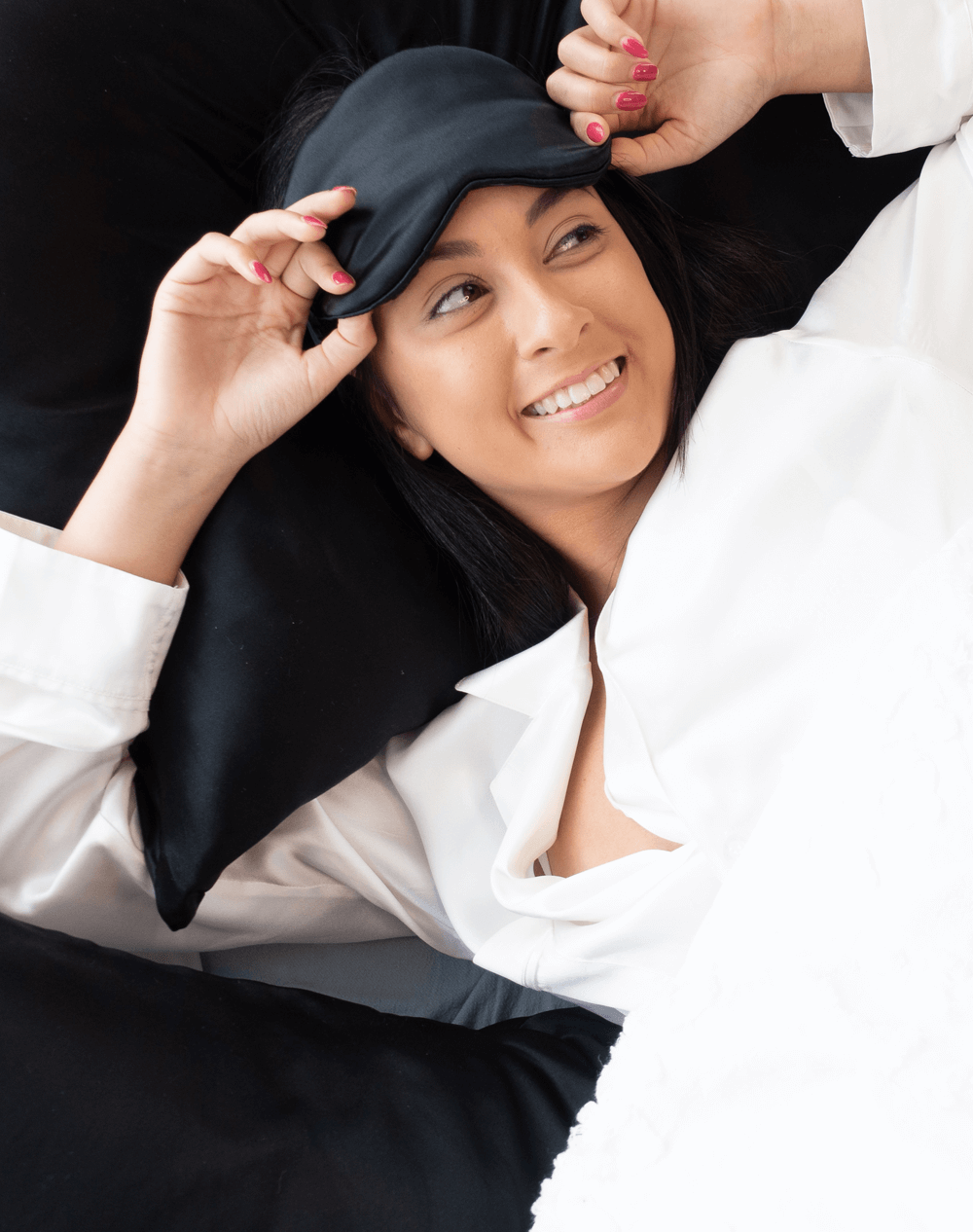 SILK FOR YOUR SKIN
Glide into
youthful radiance
Experience the effortless glide of silk against your skin, reducing friction and ensuring a rejuvenated complexion free from sleep lines commonly caused by cotton pillowcases.
Absorbs less moisture than cotton covers. You can ensure that it's your skin that absorbs your night cream, not your pillowcase.
I'M READY FOR MORE RADIANCE
SILK FOR YOUR ALLERGIES
Soothing sensation for sensitive skin
Silk is hypoallergenic and less likely to cause irritation or allergic reactions compared to other fabrics. Its smooth texture and natural fibers are gentle on your skin, making it a suitable choice for those with sensitive or acne-prone skin.
Say goodbye to skin dryness. Known for its moisture-wicking properties, silk helps retain your skin's moisture, allowing your skin to stay hydrated throughout the night.
YES, MY SKIN HAS BEEN DREAMING OF THIS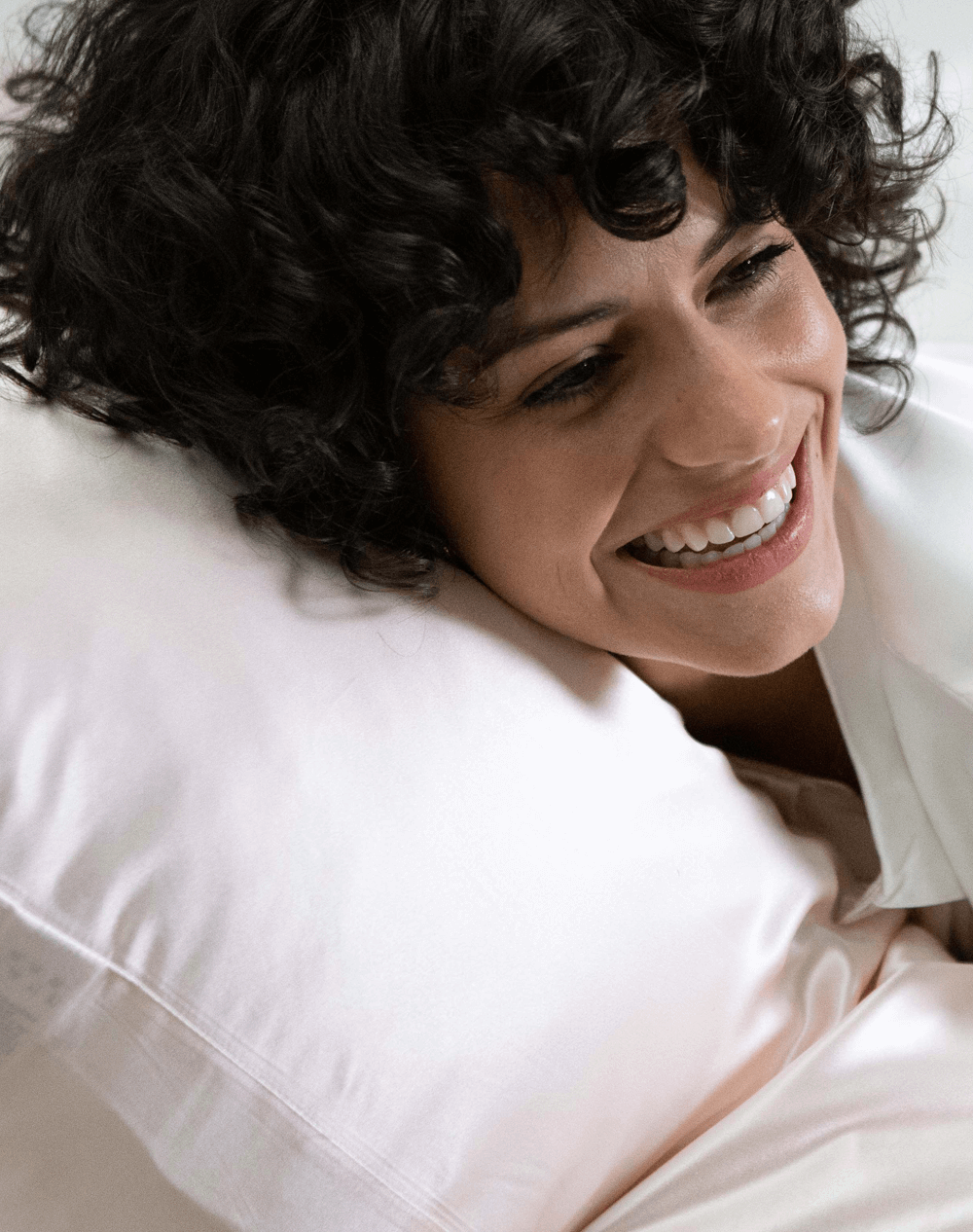 SILK FOR YOUR HAIR
An effortless
hair-care routine
No more bed head! Silk's soft fibres allows your hair glide across the pillow. You will have less hair breakage, knots, and split ends.
Preserve and prolong blowouts and hairstyles with the gentle touch of silk.
ENHANCE MY HAIR-CARE ROUTINE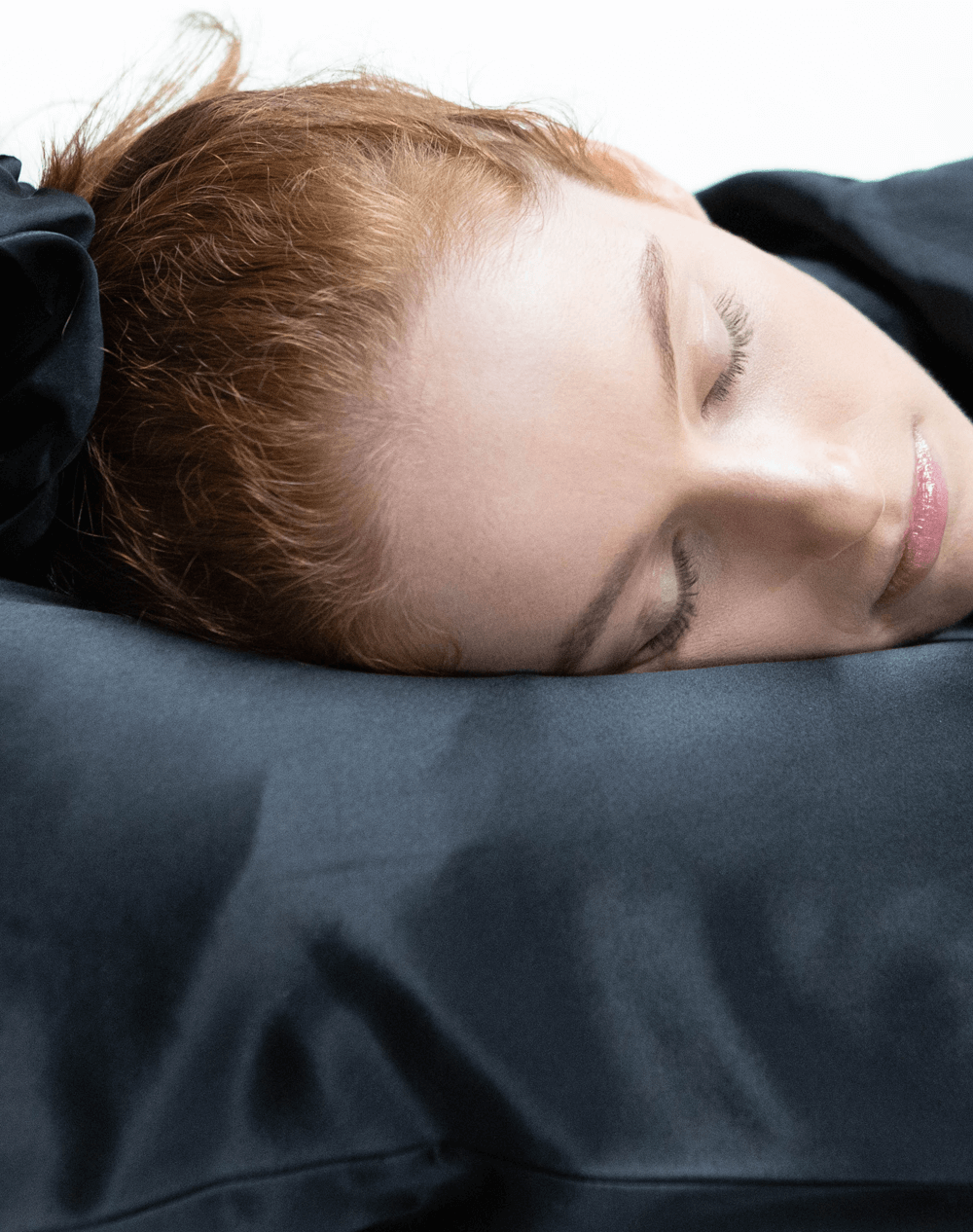 SILK FOR YOUR SLEEP
Your deepest, most uninterrupted sleep
The natural temperature regulating properties of silk fibre make sleeping on your silk pillowcase warm in winter and cooling in summer.
While silk does not directly regulate your nervous system, it's smooth and luxurious texture can contribute to a sense of comfort and relaxation, aiding in a more peaceful sleep environment.
ENHANCE MY HAIR-CARE ROUTINE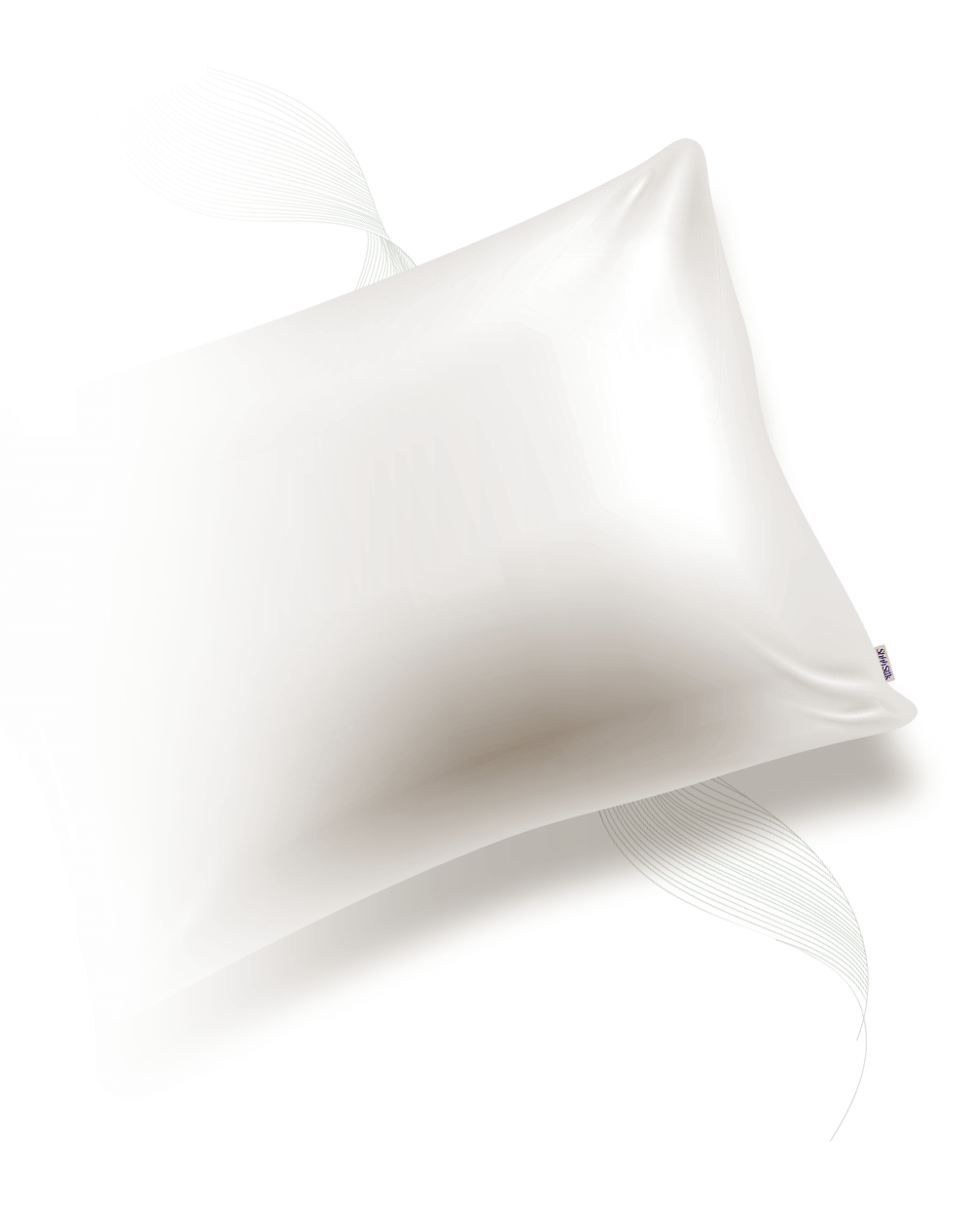 All Natural,
Non-Toxic
Silk is a natural fibre with less impact on the environment than many other fabrics. Silk is a renewable resource, can biodegrade, and uses less water, chemicals, and energy than many other fibres.
We use silk fabric with OEKO-TEX Standard 100 certification, which ensures every component including our silk, dyes and thread is tested for harmful substances.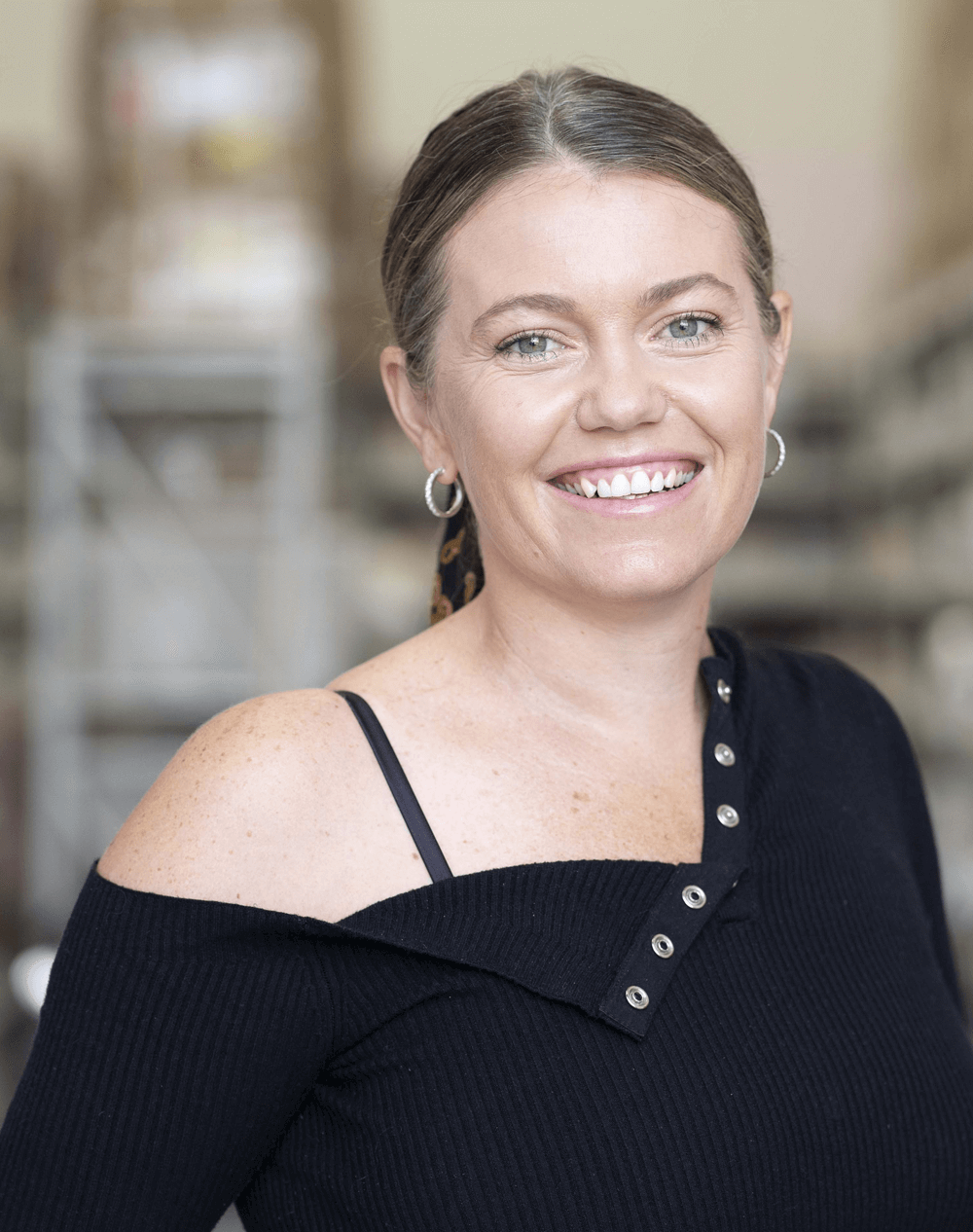 WHO WE ARE
Being your best starts with a good night's rest.
Shhh Silk is a sleep, beauty and wellness brand focusing on improving people's lives through the power of sleep and self-care.
Olivia Carr, founder of Shhh Silk, was a young single mother struggling with burnout and anxiety caused by her busy lifestyle. However, her life took a transformative turn when her hairdresser recommended sleeping on a silk pillowcase for beauty benefits.
Little did she know that this simple change would not only pro-long her blow-dry and smooth her face but also significantly improve her sleep quality, effectively managing her burnout and anxiety.
Motivated by her own experience, Olivia Carr embarked on a mission in 2015 to establish Shhh Silk, enabling others to discover the life-transforming benefits of silk and make a positive impact on their own lives.
TOGETHER WE HAVE RAISED
$4,487 USD
+
AUD
Doing Good is in our DNA.
At Shhh Silk, our commitment goes beyond improving your sleep and self-care routines. We believe in the power of giving back to the community and supporting those in need.
Since 2020, we have embarked on an incredible partnership with i=Change, a collaboration that fills us with pride and purpose. With every purchase you make, $1 is donated to one of our three inspirational charities.
So, when you choose Shhh Silk, you're not only investing in your own well-being, but also in the betterment of society. It's a small action that holds immeasurable potential. Join us on this journey of impact and let's make a tangible change in the lives of others.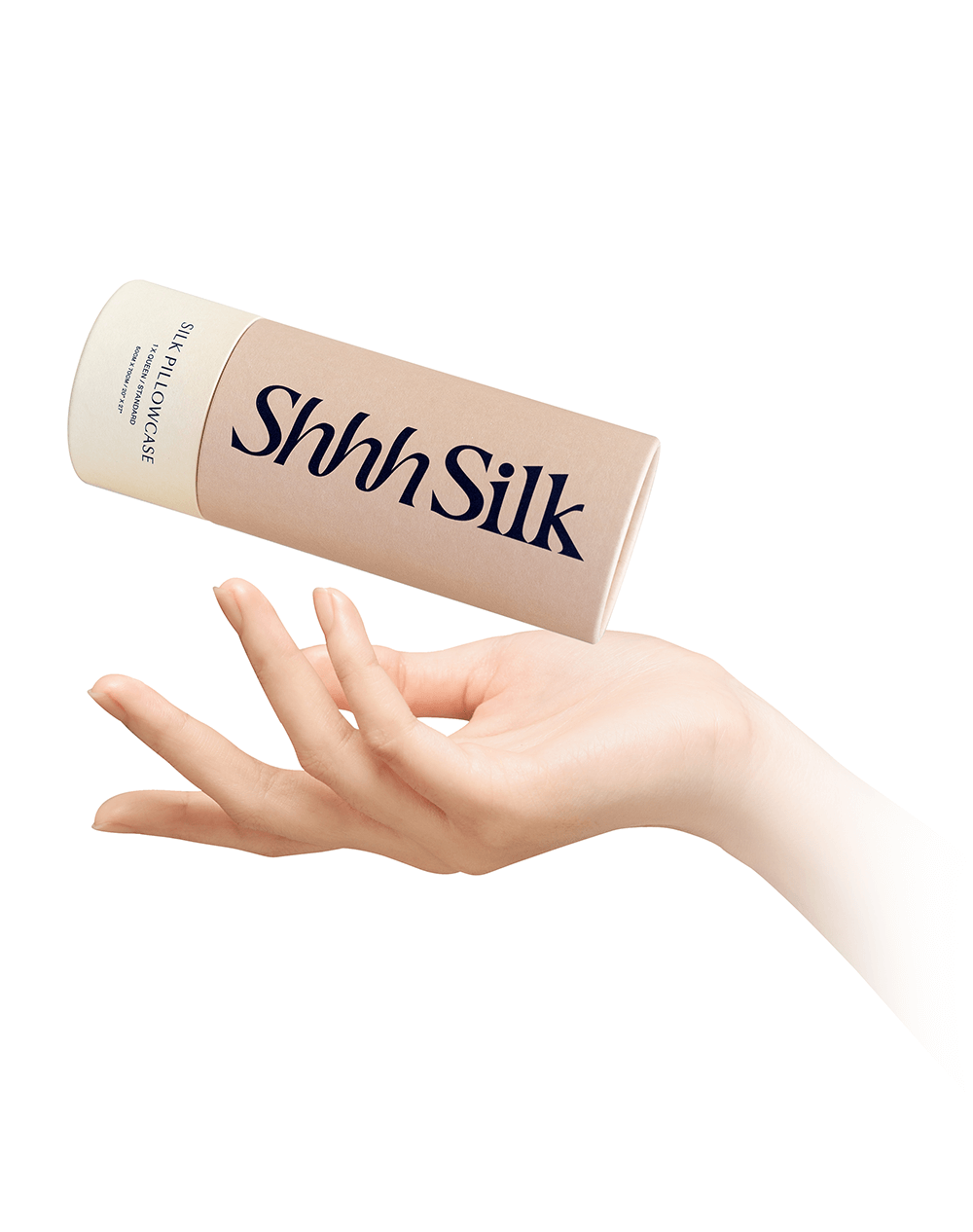 Quality products that don't cost the environment.
We are always looking for sustainable solutions or alternative methods to support the planet we call home.
In 2021 we reduced our plastic production by ½ tonne per year by changing to plastic-free packaging. Our packaging is FSC certified and uses materials that are sustainably sourced. Made to be recycled or repurposed as your next make up brush holder perhaps?
At Shhh Silk, sustainability is woven into our production process through minimizing fabric waste by repurposing offcuts from our silk pillowcases to create our world renown silk scrunchies, and producing small, curated collections to prioritize quality, sustainability, and longevity.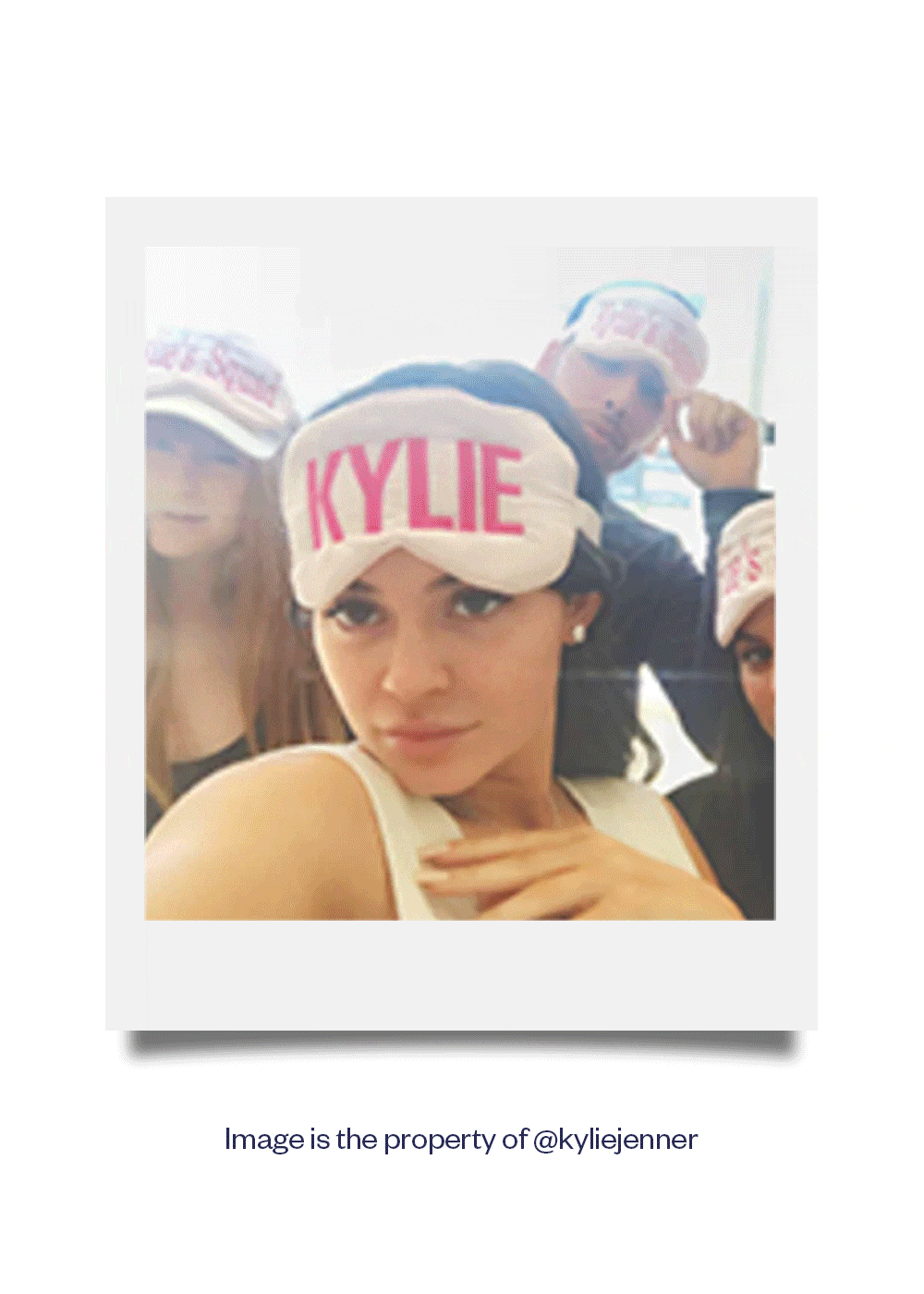 Sleeping under the stars since 2015
We are so grateful to have had many celebrities request, use, purchase, gift or receive our silk products. Celebrities such as Miley Cyrus, Selena Gomez, the Kardashian-Jenner family, Shay Mitchell and many more have been spotted in our silk pillowcases, sleep masks, sleepwear and scrunchies.
All images used remain the property of the original owner.
RAVING REVIEWS
Don't take our word for it
Frequently Asked Questions

It seems nowadays that everyone around you is making the switch to a silk pillowcase. From your friends and family, neighbours, colleagues and even celebrities. But what is all the hype about and is it real? Sure, celebrities like Kim Kardashian and Gisele Bündchen swear by sleeping on a silk pillowcase, but do you need one?

Aside from resting your head on a luxurious and soft pillowcase, there are many other benefits of sleeping on silk that you need.

You need a silk pillowcase to care for your hair

Unlike other materials that tug at your hair while your sleep, silk allows your hair to glide across the pillow throughout the night. This means you will have less breakage and split ends, as well as ensuring that you won't wake up in a knotted mess.

You need a silk pillowcase for your skin

Sleeping on silk reduces friction against your skin to reduce sleep lines caused by cotton pillowcases. Silk also naturally hydrates your skin by maintaining the moisture on your face. No one needs dry skin!

You need a silk pillowcase because they're hypoallergenic

The natural silk fibres reduce the gathering of dust and bacteria on your pillowcase. Ideal for sleepers with allergies and acne.

Our range of pure silk pillowcases has been designed using high-grade 6A pure 22 momme silk fabric. This means that our silk pillowcases are machine-washable. It's easy to maintain the quality of your new silk pillowcase, just follow these simple steps:


turn your silk pillowcase inside out
do up the hidden zipper
place in a delicates wash bag or handy tip: place inside an old pillowcase
wash with similar colours
only use pH neutral liquid detergent (we offer The Laundress silk delicates wash) or a budget-friendly tip is to use regular shampoo to wash your silk, silk has the same protein as your hair.
if you've recently washed clothing using stain remover or bleach give your washing machine a cycle before placing your silk inside.
machine wash on a delicate cycle below 86°F or hand wash in cold water below 86°F
silk can be dry cleaned, fun fact: silk sleep masks regain their original shape after dry cleaning and it costs less than $5
no harsh chemicals or stain removers
iron or steam on low heat or silk setting or line dry out of direct sunlight
do not bleach and do not tumble dry

*Helpful Tips*

If you have tough stains on your silk pillowcase, pre-soak using denture tablets to remove stains.
Never use stain removers, bleach or harsh laundry powder on silk as this will cause the silk fabric to deteriorate or tear.
Cold wash is best with a silk friendly detergent or regular shampoo.

Shhh Silk is a sleep, wellness and beauty family-owned and operated Aussie brand focusing on improving people's lives through the power of sleep and self-care.

Our Purpose

We help people wake up feeling refreshed and confident.
We help people fall in love with their sleep routine.
We are community champions and doing good is in our DNA.
We don't want to be the biggest, but we do want to be the best.
So we empower others, share our knowledge, actively support our community to raise each other up. One deed at a time. With small acts of generosity and kindness that leave a lasting impact.

Yes, our products are handmade meeting the highest STANDARD 100 by OEKO-TEX® which is one of the world's best-known labels for textiles tested for harmful substances. It stands for customer confidence and high product safety.
For those of you who are long-time advocates of sleeping on silk, you know that there is no comparison when it comes to silk and cotton pillowcases. However, if you are still sleeping on cotton, you have no idea what you're missing out on! Here are just a few differences you will find between sleeping on silk and cotton.

Silky Smooth Hair

Cotton pillowcases tug at your hair as you toss and turn during your sleep, silk pillowcases allow your hair strands to glide over the pillowcase as you move throughout the night. This is especially ideal for extending your blow wave days after leaving the salon. Say goodbye to waking up with knotty bed hair!

Kind to your skin

Cotton is quite a coarse material that can be rough against your skin. Alternatively, silk reduces friction against your skin to reduce sleep lines and crease wrinkles. Silk pillowcases also hydrate your skin by retaining the moisture on your face.

Cool To The Touch

On hot, sticky and uncomfortable nights, cotton holds in heat and warms your pillow making it uncomfortable on hot summer nights. Sleeping on a silk pillowcase is a game-changer for hot nights! Silk is temperature regulating and has a natural cooling effect, making for a more restful night's sleep. Also ideal for sleepers that tend to sweat more during their slumber.

Healthy nights sleep

After just one week of use, pillowcases can grow millions of bacteria and germs. Unlike cotton, silk is a breathable, antimicrobial and hypoallergenic fabric. Ideal for those with allergies or acne.

The best way to see the difference between a cotton pillowcase and a silk pillowcase is by trying it yourself using our 100-night risk-free trial*.

Now that silk has proved itself as undeniably superior to cotton, the conversation has switched to a new question: Silk or Satin? There are some important differences between the two.

How It's Made

There is a big misconception about what satin is. Satin is a type of weave used to create fabric with a lustrous and glossy shine. However, when people talk about satin pillowcases or bedding, they are often referring to satin weaves using polyester (plastic) or other unnatural synthetic materials. Silk also uses a satin weave, however, is woven with natural silk fibres, making it high quality, natural and luxuriously soft. No nasty plastic here.

How It Feels

Both mulberry silk and polyester (plastic) satin are known for their smooth texture, however, there is a difference. Satin has been referred to as being slippery while silk is buttery soft. No, you won't slip off your silk pillowcase. Because polyester satin is made from plastic, it can feel more coarse and brittle. A single thread of silk is approximately 1/10 the width of a human hair strand, which means these tightly woven silk threads make silk light and soft to touch. Because silk is a natural fibre, it has all these natural properties that work to benefit you, which man-made synthetic materials like satin cannot.

How It Helps

The most important thing to consider when choosing between silk and satin are the benefits. Silk is great for your hair and skin by keeping it hydrated and the amino acids in silk fibres can help replenish lost collagen in the skin. Silk is also adaptable to its environment and can help regulate your temperature by keeping you cool in the summer and warm in the winter. Because silk is a natural fibre, it has all these natural properties that work to benefit you, which man-made synthetic materials like satin cannot.

Now that silk has proved itself as undeniably superior to cotton, the conversation has switched to a new question: Silk or Satin? There are some important differences between the two.

How It Impacts The Environment

Because silk is a natural fibre, silk pillowcases are biodegradable. This means that once the pillowcase has reached the end of its product life, it can be put in the compost and returned to the earth. Read our blog on how to properly compost your silk pillowcases here. Alternatively, polyester satin is a synthetic plastic and cannot be composted or recycled. Polyester also requires more than double the energy of cotton to produce and uses harmful chemicals in production that filters into the air and water.

How Much It Costs

The most obvious difference between silk and polyester satin that most people are drawn to is the price. Satin is a fair bit cheaper than silk. However, you pay for what you get. Satin is mass-produced quickly and cheaply, is not biodegradable and will not provide the same benefits that silk does nor does it have the same lustre and shine. Opting for cheaper satin may seem advantageous initially, but you will regret not enjoying the benefits of silk in the long run, you spend 1/3 of your life sleeping or laying on your pillow, laying on natural silk fabric is healthier for your head and the environment rather than laying on a piece of synthetic fabric.

Shhh Silk pillowcases are made with the finest quality 22 momme high-grade 6A 100% pure mulberry silk. Meaning it's both heavy and buttery soft. Time and time again our customers comment on the noticeable difference between our silk fabric thickness and quality and others they have purchased in the past.

Silk Momme, actually pronounced as moe-me, is a unit of measurement for silk fabric. It is a measure of the weight of silk fabric. The more weight that silk has, the longer the silk will last.

Yes they do. We believe in a good night's sleep and there's nothing worse than a pillowcase that doesn't fit snug or stay on your pillow. That's why Shhh Silk pillowcases were the first silk pillowcases in the world to feature our unique hidden zip closure, ensuring your pillow not only feels good but looks good too!

Shhh Silk pillowcases are made with the finest quality 22 momme high grade 6A 100% mulberry silk.

Our silk pillowcases are available in two sizes. Our queen size pillowcases are 50cm x 70cm and our king size pillowcases are 50cm x 90cm