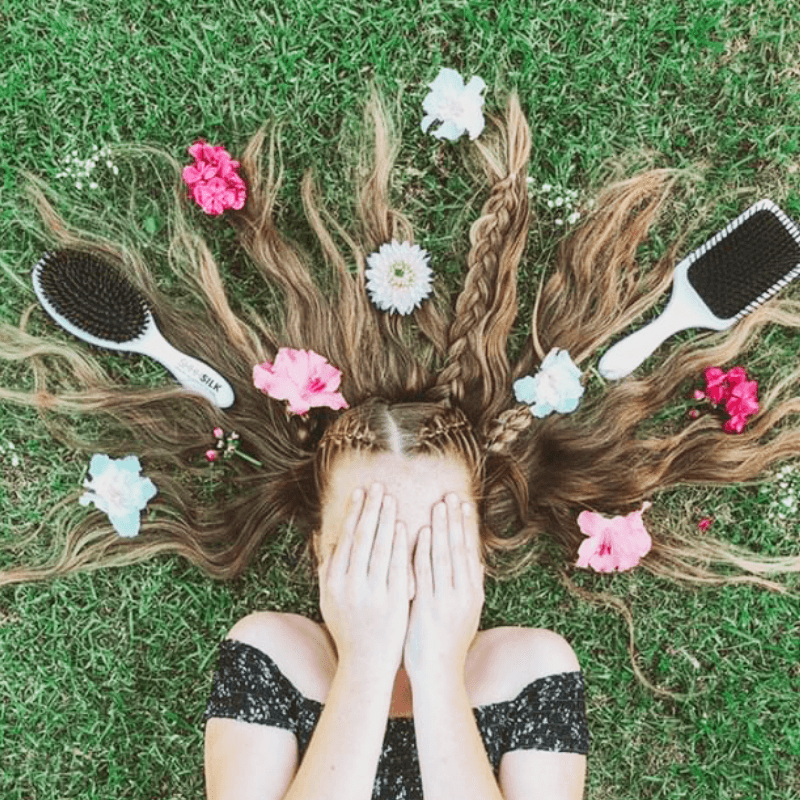 HAIR STYLING WIZ AND BRAIDOLOGIST, HANNNAH KNOWS HER WAY AROUND A BRUSH.  AT THE TENDER AGE OF FOURTEEN, HANNAH HAS WELL AND TRULY MASTERED THE ART OF BRAIDING HAIR. HER COMPLEX AND CREATIVE HAIRDOS HAVE MADE HER IN HIGH DEMAND BY CLIENTS AND GAINED HER A QUITE A FOLLOWING ON INSTAGRAM. 
I cannot tell you how many hours I have spent watching video after video of simple braiding tutorials. After many failed attempts resulting in a knotted mess, I'll admit, braiding just isn't in my forte *sighs* So, we've taken it to the expert, Hannah, to ask her how she became so great at braiding!
1. What is a braidologist?
A braidologist is simply someone who has a passion for braiding and hairstyling!

2. When and how did you learn to start braiding?
I was only 7 when I first became interested in braiding. My Aunty used to live with us and every morning she would braid my hair in the most beautiful hairstyles! I loved it! After she moved out, I had some really bad hair days for a while and that was when I decided that I needed to learn to braid. When I tried braiding myself, I had watched her braid so many times that it came naturally. Since then I have constantly been practising and perfecting different hairstyles.

3. How long did it take to reach the level of skill you are at?
It has taken me 7 years of hard work to reach the skill level I am at today. I still have a long way to go though!

4. What inspired you to start braiding?
My Aunty is definitely my biggest inspiration when I first learnt to braid! Since then I have taken lots of inspiration from other Instagram hairstylists in the braiding community, as well as Pinterest.
5. What is the most difficult braid you can do?
As I keep practising, hairstyles that I used to find hard, get progressively easier. The hardest hairstyle I have done recently is double five strand feathered braids into a fishtail mermaid braid.
6. What tools/products do you use when braiding?
My go-to products are a parting comb, mini hair elastics and my topsy tail tool. I also love Moroccan oil for detangling and heat protectant when using hot tools.
7. How long does it take to do a braid?
The time it takes for a braid varies depending on the hairstyle as well as hair length, texture and thickness of the model. It takes me anywhere from 5 minutes to 4 hours for cornrow styles. On average I would say it takes me 30 minutes per hairstyle.
8. What Shhh Silk Hair accessories or tools have you used when braiding and how do they help in your process?
The perfect braids are all in the preparation. It is crucial to keep your hair healthy, especially when your hair is wet. I always use the wide bristle shower comb to detangle hair when wet since it doesn't cause any breakage.
9. What Shhh Silk product would you most recommend and why?
I love the Shhh Silk 
Boar Bristle Hair Brush
since it is ideal for both styling and preparing hair. It is affordable, impeccable quality and the perfect size for travelling or just to carry around in your handbag.

10. What advice would you give to any braiding beginners out there?
Honestly, my biggest piece of advice is to stick with it. Persistently practise and keep working hard. Once you nail the basic braids, you can do anything!
Want to know more about Hannah? Stay updated with her incredible skills on Instagram
@braiding_by_hannah
Enjoy your beauty sleep xo xo
Written by Brittany Nash