WHAT IS MADE TO ORDER?
Our Made To Order pieces are limited edition collections made just for you. With sustainability, reducing mass production & complete pricing transparency in mind. 

We truly believe there is no longer space or desire for unnecessary things. 
We are regularly asked by our loyal customers to make more pure silk pyjamas. However, over the past few years as retail mass production and fast fashion has continued to grow, unfortunately, so has retail manufacturing waste.
In 2018 the team at Shhh Silk started on our journey towards making a better, more conscious and thoughtful impact on the environment. Which is why we are so excited to launch our Made To Order collections with you. We promise to only manufacture sleepwear products in small limited runs in quantities that you, our customers, want and need. 
Made To Order pieces are specially made for you upon ordering. Our limited-edition silk sleepwear products can only be purchased for 5 days each month. Once you've placed your order, we will begin manufacturing your silk sleepwear. Approximately 6 weeks later, your exclusive, high-quality silk sleepwear will be dispatched via Australia Post.
We've taken inspiration from a sustainable brand we look up to; Everlane, who believe in transparency when it comes to pricing.
We have also broken down the exact costs* of making our Made To Order silk sleepwear. By offering our Made To Order sleepwear directly through our website only, we can significantly cut out the traditional retail mark-up. This means we will not be wholesaling these collections, to keep the costs down for you, our loyal customers. 
*Note that the currency fluctuates daily, these currency conversions were calculated in May 2020 on xe.com. 
We are so excited to finally be able to offer you high-quality pure silk sleepwear at an affordable price while reducing our impact on the planet.
Say hello to #zerowastesleepwear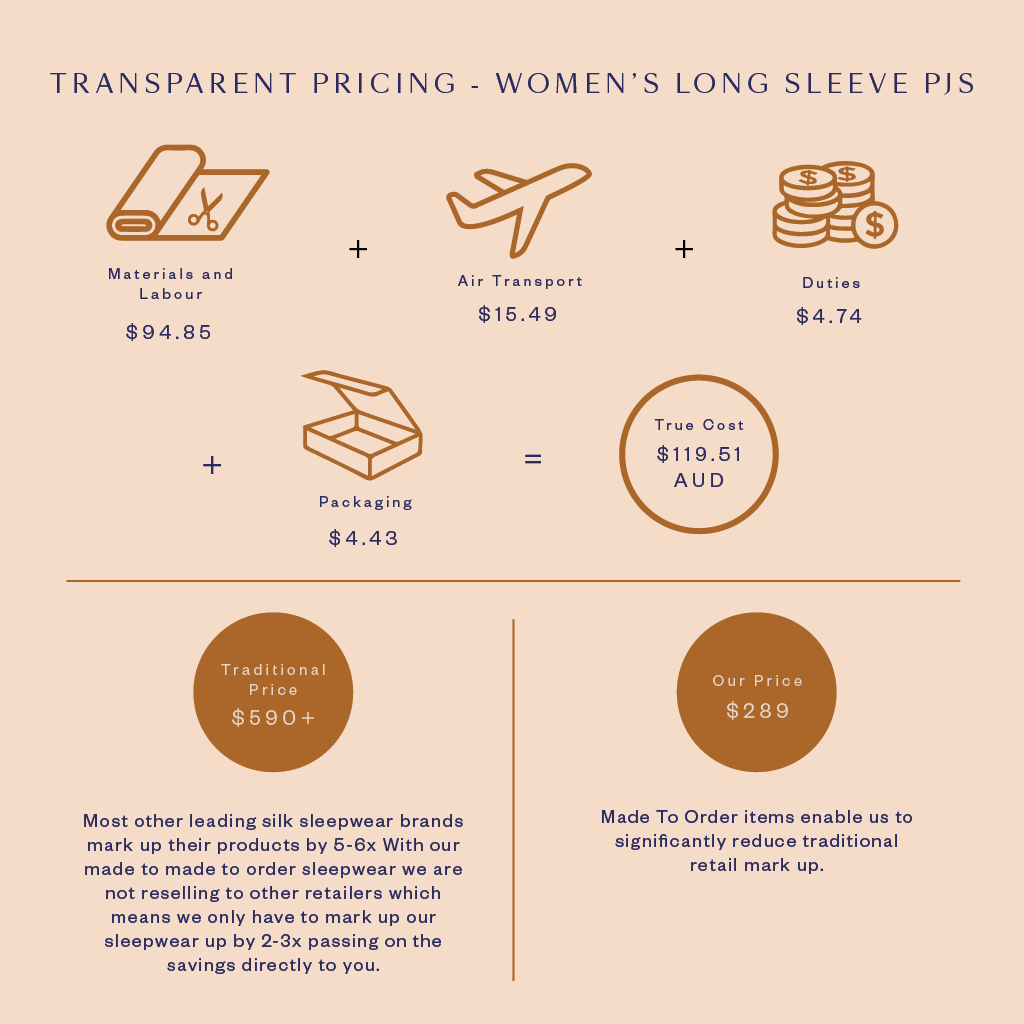 We open up our Made To Order store for 5 days each month, please make sure to sign up to our email list for updates. We may bring back past collections if the demand is there. Reach out to us directly if you missed out and want to see us bring back a print you loved. customercare@shhhsilk.com.
Given each item is custom made, and we do not manufacture additional pieces, typically refunds and exchanges are not available on Made To Order pieces. However, if your silk sleepwear doesn't fit and all swing tags are still attached we are happy to exchange your sleepwear within 14 days of receiving your order. Please note this may mean you need to wait up to 6 weeks for your new size to be custom made.
All of our sleepwear is 100% pure mulberry silk. Silk does not have any natural stretch, so if you are unsure, we recommend going up a size.

SML/MED is true to size for a ladies size 6-10
MED/LRG is true to size for a ladies size 12-14
LRG/XL is true to size for a ladies size 14-16

Looking for sizes 16+, please contact us customercare@shhhsilk.com so we can request to have a pattern made in your size.