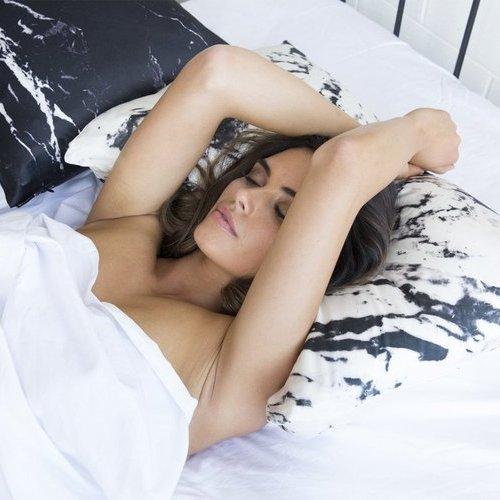 Why should I invest in a silk pillowcase I hear you ask, what's so special about silk and why is a silk pillowcase so good for my hair?
When I first invested (yes I said invested, as a silk pillowcase is an investment into your daily beauty routine) in a silk pillowcase I was in my mid 20's. I had heard about silk pillowcases and their benefits specifically for hair through my hairdresser.
Getting my hair coloured and blow dried was expensive and in particular I wanted my blow-dry to last as long as possible, longer than the night of my visit to the salon! This is when I learnt the age old beauty secret to sleeping on a silk pillowcase. 
FACT: Prior to sleeping on a silk pillowcase I would use my satin nightie as a pillowcase and put my pillow inside, as you can imagine this wasn't very appealing nor practical. 
One of the first benefits I noticed about sleeping on a pure silk pillowcase was that my once malting hair was no longer malting on my pillowcase each night.
This is because unlike cotton, silk does not create friction between your hair and the pillowcase pulling at the roots causing breakage and split ends. 
As my hairdresser had discussed many times before my blow dry was now lasting up to 4 days longer than it previously would.
Having a natural wave to my hair I used to find that even after a blow dry if I slept on a cotton pillowcase my natural wave would somehow find it's way back into my hair by the morning, since sleeping on a silk pillowcase and often even sleeping with a silk sleep cap on this is no longer the case. I can wake up with salon ready hair (which is perfect for a busy working mum) and no longer find myself using my GHD hair straightener each day. 
Sleeping on a silk pillowcase has become hands down my number 1 most important daily beauty routine.
(Gisele Bündchen arriving at Brazil airport 10th May 2016 with her black marble Shhh Silk pillowcase)
I take my Shhh Silk pillowcase everywhere. Like Gisele Bündchen I never leave home without it!
Have an idea, question or feedback for us? Email us info@shhhsilk.com
Enjoy your beauty sleep.
Olivia - Shhh Silk xx