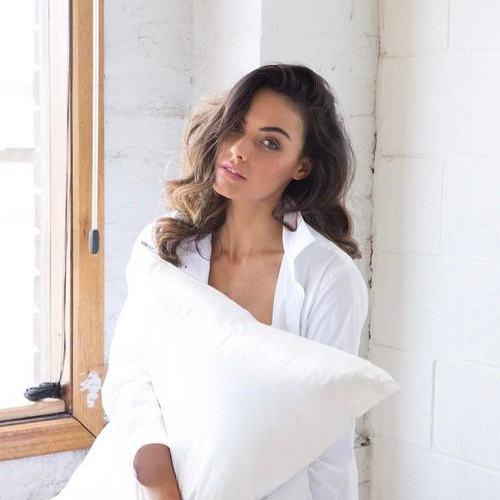 I am always surprised by how many people haven't heard about silk pillowcases as they have been used for decades by woman in particular who were wishing to keep their blow-dry's in place and prevent bed crease wrinkles from forming on their faces while they were sleeping. 
The number one question I have been asked since launching Shhh Silk last year is 'what are the benefits of sleeping on a silk pillowcase'?
I thought I would share a couple of articles with my readers to answer this exact question:
Click here to read what Lauren Valenti for Marie Claire wrote:
Click here to read what Elizabeth Shimer Bowers for Everyday Health wrote:
Even Kim Kardashian shares on her website 'you really should sleep on a silk pillowcase'. If it's good enough for the Kardashians then it's good enough for me...
So why do I sleep on a silk pillowcase? I have been sleeping on satin and then silk for years, I suffered with baby hair until the age of 10 or 11 and since then have always had incredibly fine hair that seemed to malt every night. I was referred to sleeping on a silk pillowcase by my hairdresser many years ago and have not looked back since. I noticed almost immediately that my hair had stopped appearing on my pillowcase and my skin felt fresher almost more hydrated when I woke. 
The fact that my blow-dry lasted longer was just an added bonus for me, I used to find myself straightening my hair daily and now I would be lucky to straighten my hair more than once a week. 
There are many other benefits to silk that I invite you to research for yourself such as;
Hydratation - Unlike cotton, which draws moisture from your skin leaving unwanted bed creases on your face, silk naturally hydrates your skin whilst you sleep.
Hypoallergenic – Silk is naturally hypoallergenic which makes it suitable for all skin types.
No Split Ends – Cotton creates friction between your hair and the pillowcase, Shhh Silk is smooth so your hair can easily glide preventing split ends and hair breakage.
Cool Nights - Studies say that keeping your room at a lower temperature while you sleep encourages your body to release melatonin – one of the body's most crucial anti-aging hormones – and the delicate lustre of a white silk pillowcase will keep your face cool throughout the night.
Bye Bye Bed Head – Extend your blow out by using a silk pillow case; tame those curls overnight with the silk sleeping cap – perfect for a no hair fuss wake up call.
Hopefully this has helped to answer your question, if not drop me a line: info@shhhsilk.com 
P.S I don't travel anywhere without my silk pillowcase, it really is my No. 1 beauty secret. 
Enjoy your beauty sleep. 
Olivia - Shhh Silk xx