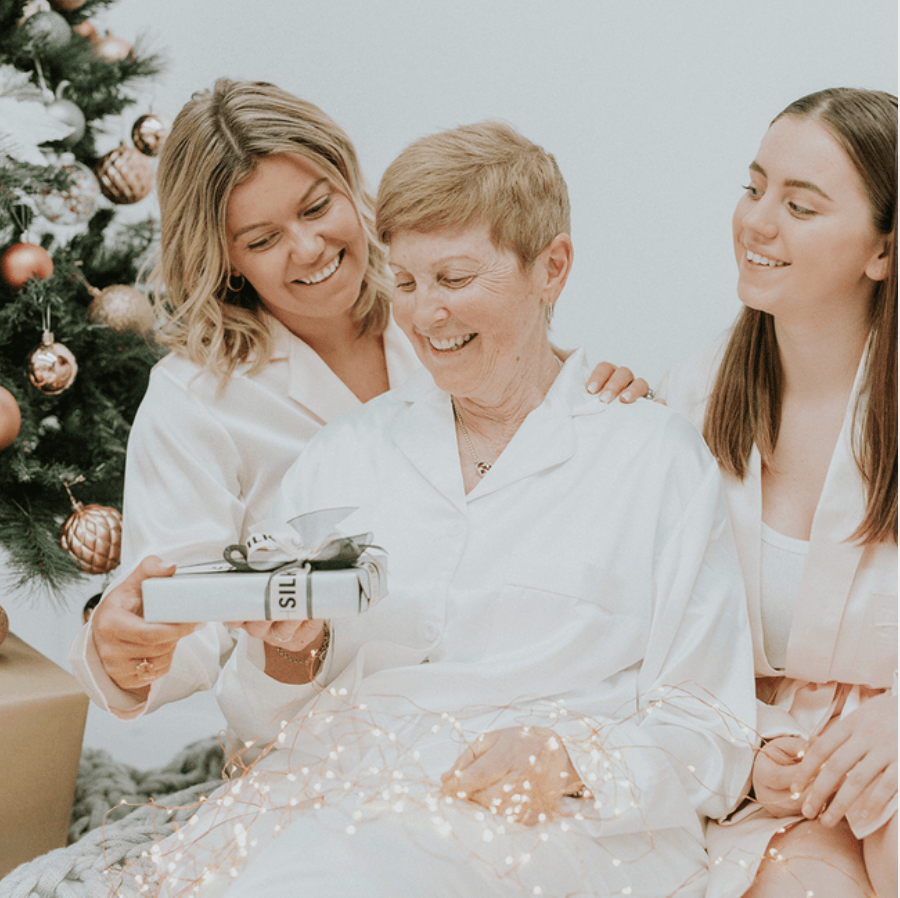 Sleighbells ringing, chestnuts roasting and magic in the air. It can only mean one thing: Christmas is nearly here! One of my favourite things about Christmas (besides stuffing my face with the Christmas turkey) is buying gifts for my friends and family. However, it can sometimes be stressful finding the right gift for each person.  Never fear, here is the ultimate gift guide for finding the perfect presents that your loved ones.
For Her
For your mums, sisters, girlfriends and wives, it's hard to find a gift to thank them for everything they do. Our Pink Silk Robes are a luxurious gift to make the women in your life feel like the queen they are. The loose fit and tie waist is perfect for getting ready for the day of feeling boujee or Netflix binging.
For Him
I'm not going to lie, I really struggle to find gifts for the men. I've probably resorted to giving my dad festive socks more times than I care to admit. If you're anything like me and are in serious struggle town, this is the perfect option! Our Silk Lined Bad Hair Day Hats are a great gift for any man in your life. As these hats are silk-lined, not only do they look great and protect you from the sun, but they have the additional benefit of improving your hair while you wear it – say goodbye to the dreaded hat hair. Available in a range of hat styles to suit everyone!
For the hard-to-shop-for
There's always one. That one person who is impossible to buy for. Whether they seem to already have everything or it's your grumpy Aunt Karen who hates everything. We've got you covered! Our Silk Pillowcases are the perfect gift for anyone and everyone. I mean, everyone sleeps, so it's a no-brainer. The luxurious 100% pure mulberry silk pillowcase will have the gift receiver waking up every day refreshed. These pillowcases are available in a range of colours to suit everyone's preferences. If you really want to treat this person add a matching Silk-Filled Eye Mask which will block out even the brightest of light so they can snooze uninterrupted. Give this gift to grumpy Aunt Karen and she might even crack a smile – talk about a Christmas Miracle
For the Traveller
We all have that one friend who's always off travelling and bringing you back presents from the farthest regions of the globe. They're hard to buy for because they have unique items from all over the world.  No problem! They may have bohemian glass from Prague, but do they have a Shhh Silk Travel Set? I think not! Including a 100% mulberry silk eye mask and silk filled pillow they can travel the globe in comfort. Not only with this gift make them think of you every time they're away, but they might love it so much that they take you with them on their next trip!
For the Love Birds
Whether you yourself are in a romantic rapport or you know two people who are closer than two peas in a pod, 2 Pack Silk Pillowcases are the perfect gift.  I can guarantee if one partner has these silk products, the other will want one too. So, don't leave anyone out, because couples who get great sleep together, stay together!
For That Special Person
For the person that is especially important in your life whether it's your parents, friend, partner or pet, give a gift that is more personal with monogramming. You can add this person's name, initials or cheeky nickname to a range of silk goodies including, silk pillowcases, eye masks and travel pillows. A gift that with monogramming has so much more meaning and will be loved forever.
Written by Brittany Nash