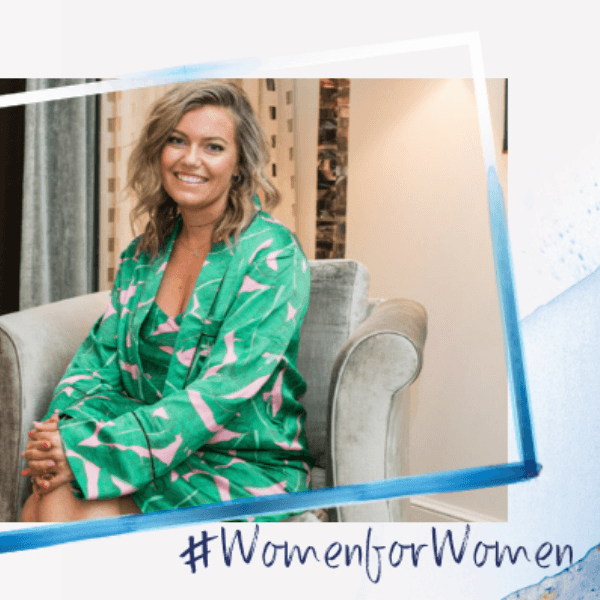 In celebration of International Women's Day, we're having a gal-to-gal chat with the powerhouse behind iconic Australian silk pillowcase brand, Shhh Silk. Meet Olivia Carr – Mum of two, entrepreneur and Shhh Silk Founder. Olivia is in the biz of sweet dreams, with her range of gloriously silky, beautifully designed pillow cases. She's responsible for better hair days, better skin days and better beauty sleep – on a global scale. Just ask two of Shhh Silk's most loyal devotees; Kim Kardashian and Kylie Jenner. (Gasps). Even more importantly, Olivia is empowering young, budding female go-getters to pursue their passions with unbridled ambition. Liv, please tell us ALL of your secrets…
First things first however, let us share Olivia's wildest move to date – pulling off a bold stunt that put Shhh Silk on the map in a ridiculously cool way. "I didn't have any existing contacts in the industry as such," she recalls. With that in mind, and a devotion to Keeping Up with the Kardashians, Olivia hatched a masterplan. In 2016, she flew to LA, hired a car and drove to Kris Jenner's house with a pillowcase package and handwritten note in her stride. (Yup, we're serious). "I just kept thinking about how else I could tap into their world," she says. The clan received the package, loved it and shared on their social media accounts! However, the ultimate compliment and testament to the quality of the product was when Kim K requested her own monogrammed range 4 months later! "Some nights I still think how crazy it is that Kim lays her head on my pillowcases," says Olivia. Now, even Makeup by Mario and his glam squad are worshipping the beauty benefits of Shhh Silk. #GOALS.
So, rewind pre the Kardashian-Jenners fan girling, and redefining world beauty and sleeping standards, Olivia led a uniquely inspiring early life. At age nineteen, she had a daughter on her own, forced to seriously start considering career and work from an incredibly young age. Raising a child solo, Olivia became well-attuned to the resilience and sacrifice required for success as well as "what's possible if you work really hard." She was consumed by a burning desire for business and decided to hone that entrepreneurial spirit by launching an anti-bullying school performance series. From costume design, to accounts and all the BTS in between, it was a bona fide one- woman show, seeing Olivia claim the title of Young Entrepreneur of the Year. It's safe to say, we're all in awe here at Libra HQ!
From there, Olivia worked in a general manager position in retail, growing a bank of general biz know-how. Taking a well-deserved break, she decided to hit the Big Apple to gain #inspo for growing her own business from the ground-up. Landing in The States, Olivia had ambition in her stride and a silk pillowcase (prescribed by her hairdresser) in her suitcase. In a twist of fate, the pillowcase got caught up during a hotel's laundry round, and never made its way back to Olivia. After having slept on silk for a whopping ten year-streak, Olivia realised her sleep was sub-par, her hair was knotty and her skin "just wasn't great." Back in Melbourne, she had a serious 'OMG!'
moment, thinking "okay, this is what I need to do." Bursting with ideas to explore a new era of stylish, high-quality silk pillowcases, Olivia whipped her passport out again and jet-setted her way to China within the week. Phewph. In this mecca of all things silk, she took her time to learn about silk farming, quality control and the ethical sourcing of suppliers. Within three months, boom! Shhh Silk was born.
After spending the first three years of Shhh Silk's journey running the whole show, Olivia notes that 2019 has become the first year in which she can play a much more strategic role in the business. Her day kicks off with a surge of creativity and a 'get it done' mindset. Let's run you through her jam-packed agenda, because it's one helluva schedule!
Olivia's Schedule
the 'hour of power' with a side of coffee, spent on the front porch with her partner to
focus on strategic game-changing tasks each day.
arrives at the office post an intense boxing sesh and get's to work on HPA (high payoff activities).
checks emails, working lunch with the team and a mix of operations, social, design and wholesale tasks.
a quick switch into #mumlife mode to pick her son up from school.
sporting activities with the kids, dinner, walking the dog, house duties and chilling with the family.
sleep spray, silk pillowcase, sleep mask, meditation and finally…some beauty sleep! #BLISS.
While Olivia is still heavily involved with Shhh Silk's grammin' and socials, a team of powerhouse Girl Bosses now assist her in running in-house PR from a fabulous, "Gatsby style" office in Melbs. There's even a Friday Funday, where the team embark on activities like indoor trampolining sessions or convene for a tasty lunch spread if they hit their targets each week. We want in!
On what advice she would give to the girl that wants to pursue her passions, Olivia says it's ALL about doing "whatever it takes" and simply "starting somewhere." She admits there's no magic formula aside from backing yourself and trading fear for self-belief. You must also be prepared to put in the #hustle with a great attitude at an entry-level, to show just how much you reaaally want to learn from a brand, person or experience.
Thanks for joining in on the chat, gals! We hope you're feeling just as inspired and empowered as us after hearing Olivia's story. With the right attitude and some old fashioned hard work, you can achieve absolutely anything girlfriend!